This guide will take you through setting up MYOB Advanced for the Web Ninja connection. Note that all 8 steps below must be followed to allow for a seamless connection between the Web Ninja system and the MYOB API.
Step 1: Login to Advanced and Setup a new API
Set-up a user in MYOB with 'Full User API' access
Provide the URL to the login. It will look like this: https://hurstscientific.myobadvanced.com
Provide the username and password of the user account with full user api access
Step 2: Validate and Publish Customisation
Click on More Items and then Customisation, then click on Import and import the attached WebNinjaApi20191119.zip. You'll find the attachment at the bottom of this article.
Do not unzip the file; just import the zipped file.
Once you have imported the file, validate it and then publish it. This is most important.
Step 3: Set WebNinjaApi Endpoint
Go back to More Items, then Integration, Preferences, Web Service Endpoints and select the WebNinjaApi option.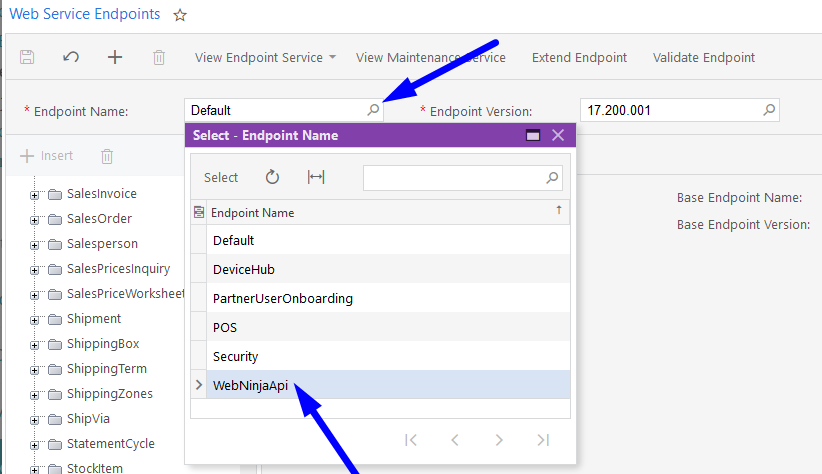 Choose Endpoint Version 6.00.001
Step 4: Get the API Company Name
To get the API Company, go to More Items then System Management. Click on Tenants under System Maintenance and locate the Tenant Name.
The Tenant Name is the API Company Name that your Web Ninja contact will need.

Step 5: Get the API Branch Name
To get the API Branch, go to More Items and then Configuration. Click on Companies which is usually located under 'Organisation'.
Click into the Company ID field and copy the ID. This is used as the API Branch by Web Ninja.
Step 6: Set API user to FUll API Access
Ensure the API User account is ticked for full Administrator access.
To do this, go to More Items, User Security, Users (Under User Management). Search for the API User account under Login and make sure Administrator is ticked.
Step 7: Set the API Calls to 1500
The default number of API calls that MYOB will accept is 1500 per day. Make sure that this is in fact set to 1500.
Step 8: Provide the following items to your Web Ninja contact:
URL to the login page of MYOB Advanced. It will look like this: https://webninja.myobadvanced.com
The API User account's Username
The API User account's Password
The API Company Name
The API Branch Name