Customer price levels can be set-up based on the Xero standard sell price or standard cost price.
If you want to base a customer price level on the cost price, first make sure that your Web Ninja contact has imported the cost price to a user field.
Next, log into the admin area and navigate to 'Modules' and select Price 'Manager' then 'Price Levels'.
Here you can set a new price level, based on either the sell price or cost price. Note that it is important to make sure that the required customer type/s are setup first by your Web Ninja contact. You can view the customer types in the customer list under the Account Setup for each customer. There should be a customer type for every different price level you wish to set-up i.e. Wholesale, Retail, Contractor etc.

The price manager will allow you set a new price level by adding or subtracting a percentage of the sell or cost price. You can then assign this new price level to different customer types. In the example below, I've set-up a 100% markup on the cost price for each product for a customer type called 'Wholesale Test'.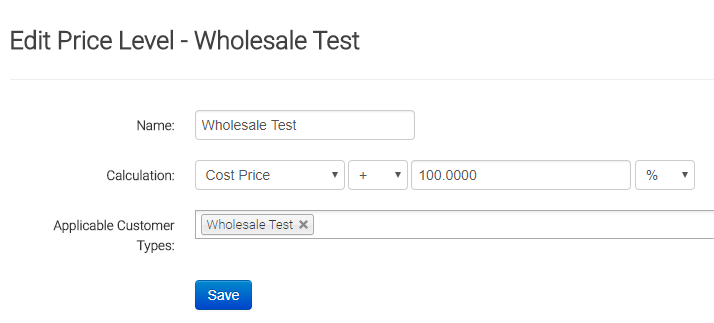 Once configured, you can view the price book and this price level will be assigned to all products for this customer type.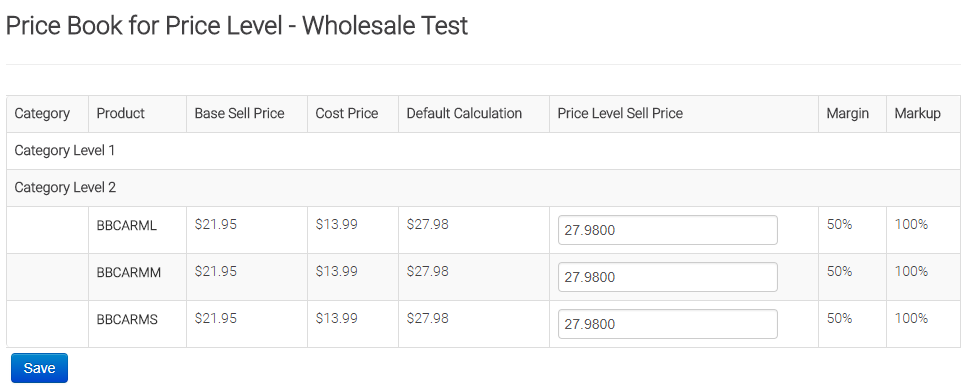 Note that you can only set an entire price level to a customer. Also, do not select 'Fill Prices' unless you want the default price for every customer to be this new price level. It is not recommend to do this.